Cyborg Hate Crime is the Worst Thing Ever
There's a quote floating around the internet about the wonder of living in a William Gibsonesque future being eclipsed by the horror of living in a Gibsonesque future. I'm horrified that something like this actually happened, but there is something really trippy about this being a real headline from a real newspaper (the Star is sort of a real newspaper):
Toronto Cyborg, Steve Mann, says he was Assaulted in Paris McDonalds
First, I gotta say Mann is the most Canadian guy ever, right? He looks like the love child of Patrick McKenna and Locutus of Borg. I love him already.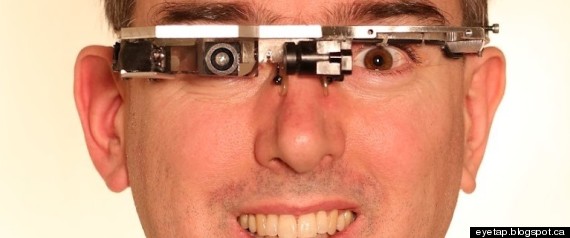 Apparently Mann, who wears this Eye Glass as a vision correcting device, was visiting a McDonald's in Paris when three employees tried to rip it off his face for no reason that Mann could fathom. Only it doesn't come off. Here's an excerpt from his own blog about the incident:
"He [the employee] angrily grabbed my eyeglass, and tried to pull it off my head. The eyeglass is permanently attached and does not come off my skull without special tools.
I tried to calm him down and I showed him the letter from my doctor and the documentation I had brought with me. He (who I will refer to as Perpetrator 1) then brought me to two other persons. He was standing in the middle, right in front of me, and there was another person to my left seated at a table (who I will refer to as Perpetrator 2), and a third person to my right. The third person (who I will refer to as Perpetrator 3) was holding a broom and dustpan, and wearing a shirt with a McDonald's logo on it. The person in the center (Perpetrator 1) handed the materials I had given him to the person to my left (Perpetrator 2), while the three of them reviewed my doctor's letter and the documentation.
After all three of them reviewed this material, and deliberated on it for some time, Perpetrator 2 angrily crumpled and ripped up the letter from my doctor. My other documentation was also destroyed by Perpetrator 1.
I noticed that Perpetrator 1 was wearing a name tag clipped to his belt. When I looked down at it, he quickly covered it up with his hand, and pulled it off and turned it around so that it was facing inwards, so that only the blank white backside of it was then facing outwards.
Perpetrator 1 pushed me out the door, onto the street."
Read the rest here.
As far as I could find out, Mann never got any justice for this incident and McDonalds denied that he was assaulted even though the damaged Eye Glass recorded images of the McDonalds employees perpetrating the assault.
I'm not sure how I missed this story when it broke in the summer, but I'm sure I won't be eating in McDonalds anytime soon.
Welcome to the future.